This page contains samples of page from the 130-page Seekers Unit Study 1 | South Africa. The unit study accompanies the novel, Seekers of the Lost Boy, and explores many of the themes raised in the story.  If you are a teacher, parent or independent student keen to use Seekers of the Lost Boy as a springboard into all sorts of educational discoveries, then this unit study may just be what you need.
Features
Focal age-range: 9 – 15 years old, but includes activities for older and younger students.
Includes a section called Activities For Little Kids, especially for younger members of the family for the homeschooling context.
Colour-coordinated learning areas.  Each learning area has its own theme colour making it easy to work with.
Activities clearly marked within a theme-appropriate colour box.
PDF format, making it easy to print at home or at any print store.
Laid out to allow for back-to-back printing, saving you costs on paper.
Packed with learning experiences – enough for 3 – 6 months.  But, also designed just to dip into.  This unit study works for YOU not you for IT!
Samples
Introductory pages
The contents page (image one) indicates what learning areas and topics are covered. The unit study is introduced with the reminder that while this study can be used in its entirety, it is also designed to be able to dip into, taking out the elements that you and your class/family would like to explore. Please remember that it is designed to work for YOU and not you for IT.  (Click the image to view the full-size image.)
Language Arts
The Language Arts section covers an array of literary forms. It begins with discussion questions covering five chapters at a time. Five of the questions (Digging In) are general questions that can be answered easily by just about any age child. The second five questions (Digging Deeper) are more challenging and require more abstract thought. Thereafter, 12 copywork passages are provided, along with space to write for those who want to print out the copywork pieces. There are three "levels" of copywork, depending on where your student is at in age or ability. For students who fall "between" the three levels, choose the higher level and require less writing. Remember, the unit study must work for you, so by no means should all 12 passages be copied, unless you plan on doing the unit study over a 3 – 6 month period. These sample pages include a glimpse at the poetry section. The other sections include a narrative-style explanation and activities for: letter-writing, story-writing, interviews, and the parts of a book. (Click the image to view the full-size image.)
History
The history section requires your student to be a bit of a detective! They'll learn about sources and evidence, bias and reliability, fact and opinion. They'll work with timelines and learn about segregation history both in South Africa and the rest of the world. (Click the image to view the full-size image.)
Social Studies | Geography
Maps, currents and waves feature in the geography componant of the social studies section. They'll even get to do some correcting of mistakes on the map in the original print of Seekers of the Lost Boy! (Click the image to view the full-size image.)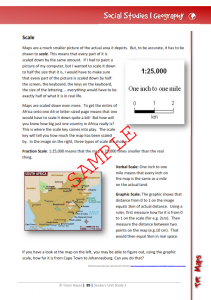 Social Studies | Culture
Exploring the South African culture through language and food will have your kids learning all sorts of fun slang, comparing it to slang in other parts of the world and then cooking up a storm of traditional South African recipes. Yum yum! They'll also get to find out more about world religions through their own research, using the explanation of Christianity in Seekers of the Lost Boy as their starting point. (Click the image to view the full-size image.)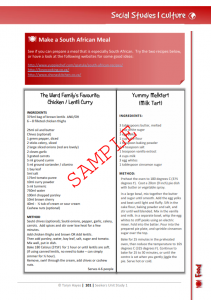 Science
One of the issues raised in Seekers of the Lost Boy is chromosomal abnormalities. To help students better understand this, the Seekers Unit Study features an introduction to chromosomes, what they are and how they function (or not, when there are abnormalities). It includes a fun activity for kids to understand how they get their eye colour. In addition to chromosomes, the science section looks at weather, what affects it and ways to measure it. (Click the image to view the full-size image.)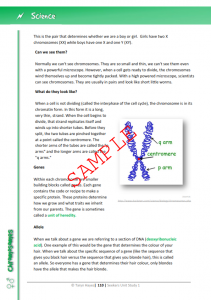 Activities for little kids
While the activities in this unit study are mostly aimed at students in middle and high school (grades 5 – 12), an additional section is dedicated to extra activities especially aimed at littlies. So if you are using this unit study in a homeschooling environment, even the little kids can enjoy theme-related activities and learning experiences. Here are just two samples from the study: a couple of science-related activities and a sample colouring page. Click the image to view the full-size image.)