My kids loved this book and I knew it would be a hit the minute my eldest (14) said,
"Read it slowly so we can read this book forever, but read it quickly so I know what happens! 
Can you do that, Mom?" ~ Kendra C, The Curriculum Choice Review, 2013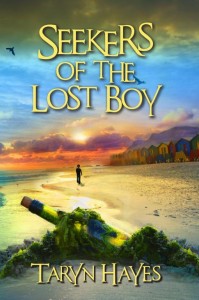 Like Kendra and her kids, the homeschooling family in Seekers of the Lost Boy enjoy experiencing adventures together while reading aloud.  Little do they realise, however, that one day they will have a real live adventure of their own.   When studious and serious Simon (12) discovers a bottle on the water's edge, he imagines pirates and all kinds of ancient folklore. But when he discovers a message inside the bottle, he and his twin siblings, Kim and Nic, are thrust into an adventure unlike anything they've ever experienced.  The biggest quest?  Finding the person who wrote the message and uncovering the answer to his question.  Fast-paced, exciting and yet poignant, Seekers of the Lost Boy explores the darkness of forced removals (from District Six during the apartheid years of South Africa), the healing of forgiveness and the power of discovering truth.
Reviews | Buy Ebook | Buy Paperback
 About Seekers | The Unit Study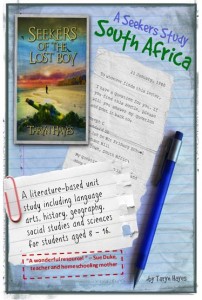 As of December 2014, the Seekers Unit Study (South Africa) is available.  The unit study accompanies the novel and explores many of the themes raised in the story.  If you are a teacher, parent or independent student keen to use Seekers of the Lost Boy as a springboard into all sorts of educational discoveries, then this unit study may just be what you need.  While the study is aimed at students between the age range of 9 – 15 years old, the study also includes activities that will stretch the older student.  As an added bonus, homeschooling families get a full section dedicated to younger members of the family, with activities and four colouring-in pages aimed especially at preschoolers and kids in grades 1 – 3.  The unit study focuses on five learning areas, and includes the following:
studies in

language arts

, with lots of writing opportunities;
a hands-on history section, where the student gets to play detective

geography studies

, including working with and creating maps, and understanding waves and currents
cultural studies, including some food fun with a focus on favourites from South Africa
a dip into genetics and chromosomes in the

science section

and a section on weather and weather patterns
The unit can be used in its entirety, which will take around 3-6 months to complete.  Or it can be used as a resource to dip into for the odd activity or area of interest.
.
Sample Pages | Reviews | Buy Unit Study (A4) | Buy Unit Study (Letter)
 ..
..
Buy both the Seekers of the Lost Boy novel
& the Seekers Unit Study 1 – South Africa
together in a bundle and save
20%
.
.
.
*****
This unit study will add so much value to your reading of Seekers of the Lost Boy
and to your South African studies in general.  Whether you want to focus on language activities,
history sources, geography/cultural studies or even the science of genetics,
you will find the most amazing resources here to help you. 
~ Sue Duke, high school teacher and homeschooling mother of 3.
.
*****
.
.