The interview below first featured in the Cape Home Educators' quarterly magazine, April 2013.
Taryn Hayes Interview
A CapeHomeEd mom has written her first book!
Herewith an interview with Taryn Hayes concerning this VERY exciting book writing adventure…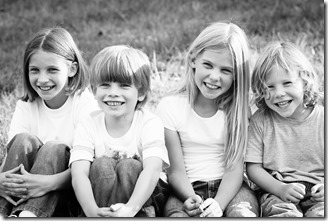 How many children do you have?
4 – Kiera-Lee (10) Katie (8) Samuel (6) Micah (4)
How long have you been homeschooling?
That's one of those questions I never quite know how to answer! I started looking into homeschooling before my eldest turned one. I had been a high school teacher during the Curriculum 2005 transitions and didn't like what I saw, so homeschooling started to become an option to explore. Eventually, my husband, Craig, and I decided it was the avenue we wanted to take for the early years and we've been homeschooling ever since. So, I guess the answer is dependent on one's understanding of "school". I'd say that we've been homeschooling since we became parents, but only more formally for the past 6 years.
What made you decide to write a book?
One of the things that sold me on homeschooling was the Sonlight curriculum. Their slogan is "the way you wish you were taught". That totally resonated with me. As a high school history and English teacher, I had experienced firsthand how learning about life through literature was an extremely powerful tool. My kids and I have had some incredible learning experiences through the pages of excellent stories. I had always wanted to write books 'one day' – ever since the writing bug bit me at the age of 6! But, I felt that it was something for another season of life when I had more time to give to writing. Then Sonlight came along and spoiled us with excellent historical literature, often with key spiritual lessons. I longed to read South African historical fiction of that style and calibre. I also wanted to read books to my kids with homeschooled characters – we'd not come across any contemporary stories with down-to-earth homeschooled kids as main characters. Plus, I was interested in stories that explained Biblical theology in a natural conversational way, without it being contrived. I began to wonder… maybe I could try writing something myself?
That was way back when my eldest was just 4 or 5 years old! But, it wasn't the season, so I shelved that idea. But the idea wouldn't shelve itself! It kept popping back into my head over the years: first with an overarching idea for a series of books and then with a story itself.
When did you start writing it?
When the story grew too big for my head! Quite literally! I couldn't contain all the ideas that I had for it and so I started to write the first few chapters towards the end of 2011. At first I wrote it only for my own kids, reading chapter by chapter to them as I wrote. I included lots of familiar references for their entertainment – most of which are still there and will hopefully tickle other homeschool readers too! I got as far as the 5th or 6th chapter before I had to take a break – visiting overseas family and an illness meant that the story went on the back burner until the middle of 2012. But once I picked it up again, I couldn't stop. Every time I opened my laptop it felt like I was returning to an exciting story and I just had to find out what happened next. It sounds so clichéd, but the experience of writing the story was as exciting for me as reading a gripping story written by someone else. I finished the first draft in July of 2012.
What is the title and what is the storyline?
The book will hopefully be the first in a series called Seekers. This first book is Seekers of the Lost Boy. It follows a homeschooling family on an unexpected investigative adventure. Simon Ward (12) finds a bottle on Muizenberg beach one cold winter's morning. In it is a message written by another 12-year-old boy, Joseph, from 1980. The message contains a question: Who is God and does he care about me? Simon, his parents and his 10-year-old twin siblings, Kim and Nic, are intrigued by the question. So, with the clues left in the letter to guide them, they set out looking for Joseph. Their journey brings them face-to-face with their apartheid past, particularly forced removals from District Six in the late 70s and early 80s. It also brings about some surprises, including a family secret and a quirky DJ who helps them along the way.
What age group is this book aimed at?
I've had adults and kids enjoy Seekers of the Lost Boy, but I think the target age range would be 8-14 years old.
When and where will it be released?
May 2013 is the official launch month. According to my publishers, Naledi Books, Seekers of the Lost Boy should be available in CUM bookstores across South Africa, as well as other major bookstores like CNA, Exclusives, PNA and others. Christian Book Discounters (CBD) will stock it too – they have stores across South Africa. It will also be available on Kalahari in paperback and ebook format. Hopefully by the end of May it will be available on Amazon for Kindle too. Because it is listed with the distributor www.onthedot.co.za any bookstore across South Africa can source it for you as long as you have the ISBN: 978-1-920654-04-7 (update: it will also available to bookstores worldwide through Amazon by July 2013)
How has this book writing journey been so far?
Incredible! One of my biggest concerns about publishing this book was allowing it to compromise my role as wife and homeschooling mother. Before our kids were born, Craig and I felt that it would be best for our family if I stayed home and poured my energy into raising our family in the light of Christ. I knew that going the publishing route could very easily detract from that in a detrimental way. So, after much prayerful thought, I decided that self-publishing would be the least disruptive route to go. Just as I made that decision I prayed again, rather cheekily, "Lord, I'm going to self-publish. If it's the wrong direction to go in, please do a dramatic redirection, because I really don't want to walk slap-bang into an unwise decision!" The very next day I got an email from Naledi – they were interested in my book and they were happy to put together a contract that would allow me to be a wife and mother first and an author second.
There is still quite a lot of work to be done to get a book from draft to shelf, but it's been manageable. I keep many of the admin tasks up-to-date during the day between kids' extra murals, during rest and play times and then at night. I write at night too, but I try stick to one or two nights a week for the sake of balance and marital harmony!
Now that the journey has reached publishing phase and the book is soon to be on shelves around South Africa, I'm feeling quite nervous of public scrutiny! I wrote this story for my kids first and while I value excellent literature, I by no means feel that I'm of the level I appreciate most. But, it's a story worth telling and, as our minister once wisely said, if a job's worth doing, it's worth doing. So, I've entrusted this story into the hands of others and I trust that God will use it as He will.
Do you have a facebook page where we can see more?
Yes. I started a Facebook page when I thought I'd go the self-pub route for the sake of friends and family who were wanting to follow the process. You're most welcome to join by "liking" the page: http://www.facebook.com/tarynhayesauthor or you can head to my website: http://tarynhayes.com for more of the background stories, like how I chose the names of the characters.