Seekers of the Lost Boy is sold in stores worldwide.  The Seekers Unit Study is sold exclusively here.
.
*********************
UPDATE FEBRUARY 2018 – This website is undergoing updates.
Please contact the author DIRECTLY for all sales of UNIT STUDY material and current prices.
Seekers of the Lost Boy is still available in Paperback Format on Takealot, Amazon, Book Depository and most other online stores. It is also available on Kindle from Amazon.
********************
Seekers Unit Study | Digital Download
Available only from tarynhayes.com
The unit study focuses on five learning areas, and includes the following:
studies in language arts, with lots of writing opportunities;
a hands-on history section, where the student gets to play detective
geography studies, including working with and creating maps, and understanding waves and currents
cultural studies, including some food fun with a focus on favourites from South Africa
a dip into genetics and chromosomes in the science section and a section on weather and weather patterns
The unit can be used in its entirety, which will take around 3-6 months to complete.  Or it can be used as a resource to dip into for the odd activity or area of interest.  While the activities are appropriate for kids aged 9 – 16, all the activities can be geared up or down.  Each section includes additional activities for children younger than 9 years old.  For sample pages, click here: Seekers Unit Study Sample..
Seekers of the Lost Boy | The Novel (paperback version)
Available worldwide and from tarynhayes.com
To buy a paperback copy of Seekers of the Lost Boy in a physical store near you, phone ahead to be sure that the store has it on their shelves.  If not, they can order it for you.  Simply provide them with the title and the ISBN number: 978-1920654047.  Alternatively, you can buy Seekers of the Lost Boy from any of the following online retailers (click the link to send you directly to the store page).
.
* Amazon Paperback
* Loot
* Book Depository
* Kalahari
* Exclusive Books
* CUM Books
* Barnes and Noble
* Christian Book Discounters (South Africa)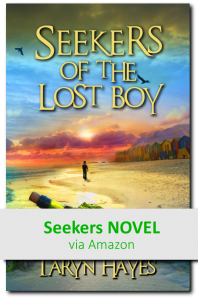 aa.
Seekers of the Lost Boy | The Novel (ebook versions)
Available from Amazon, Kalahari and tarynhayes.com
Seekers of the Lost Boy is also available in eBook format.  You can purchase the Kindle (.mobi) version directly from the author by emailing: tarynhayesauthor@gmail.com for the current price.  Or you can purchase it from Amazon.com.